Winter Safety Tips and Tricks: Home Insurance in New Bedford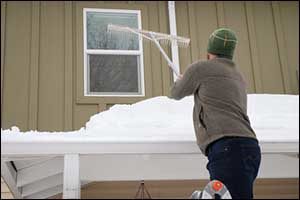 There are many hazards and risks that can be dangerous for homeowners in the winter months. Your New Bedford insurance agent wants to make sure that you are properly covered and prepared for winter weather. Snow, ice, water, and cold weather can all result in property damage. However, it is essential to know what types of damage are covered under your Massachusetts homeowners insurance policy, and which ones aren't. To make sure you know what is covered, visit your local insurance companies in New Bedford, MA to discuss your policy. Borden Insurance can answer any questions that you might have about coverage and provide you with solutions to protect your home and investments.
Reduce Your Risks
The best way to prevent damage and keep from having to file a claim is to be ready for snow damage. Some people see snow falling and think about how beautiful it is, but homeowners should always think about how it could cause damage. The sheer weight of the snow on your roof can be a big concern. It is important to safely remove the snow from your roof to prevent any damage from occurring. There are several devices that can be used by homeowners to remove snow and ice from the roof. Before hiring professionals to take care of this work for you, contact your provider of home insurance in New Bedford for tips on hiring a qualified service. You will want to make sure that the provider is licensed, insured, and trained to remove snow and ice to reduce your liability.
BONUS TIP: Review your policy with your New Bedford insurance agent. Make sure your policy provides coverage for ice damns and the resulting interior water damage that can occur.  If your Massachusetts homeowners policy does not cover this type of damage, find out if you can add this type of coverage to your existing insurance.
Document Damage
If any damage does occur, make sure to document it carefully and notify your insurance company or agent immediately.  Take lots of photos to show the damage and submit them to your New Bedford insurance agent. Many insurance companies will also send out a claim representativie to take photos themselves, but you should take pictures as well. If your home suffers any minor damage due to winter weather, take care of any repairs right away. That way, if you do suffer major damage during future winters, you will have proof that you made repairs promptly and professionally. Home insurance in New Bedford doesn't cover homeowner neglect. If repairs need to be made to any part of your home, make sure to do them as soon as possible and hire a legitimate repair company.
BONUS TIP: Document any and all repairs, remodeling, and renovation work that you do in your home. Keep a file with contractor information, material purchases, and work receipts for your records. If you make major changes to your home or property, contact your New Bedford insurance agent to include them in your policy for proper coverage.
Landscaping is Important
One of the areas that many homeowners overlook is taking care of landscaping. Trees, bushes, and other natural elements that hang over, around, or encroach upon your home can increase your risks. Before the snow falls each year, make sure to trim landscaping to prevent it from becoming a hazard. Your Massachusetts homeowners insurance might not cover damage caused by a tree branch that you left hanging over your garage. Once it fills up with snow and ice, it is more likely to fall and cause damage to your home. Even if a branch does not hit your house, it could fall on your car, shed, or other assets. Clearing away broken branches and falling trees in the winter is much more costly than during other seasons. Take care of this work in the early fall before any unexpected seasonal weather.
BONUS TIP: Trim or remove trees that hang over your house, sidewalk, walkway, fence, or go over to your neighbor's property. If your tree falls on your neighbor's house or other property, their home insurance in New Bedford might seek compensation from your insurance company. Check your policy to make sure you are covered for this type of claim from other insurance companies in New Bedford, MA.
Get a FREE QUOTE from Borden Insurance
If you are in the market for a New Bedford insurance agent or would like to get a quote to compare to your current Massachusetts homeowners insurance policy, give us a call. Borden Insurance has provided quality automotive and home insurance in New Bedford since 1909. Family owned and operated, we offer a wide range of insurance opportunities to our clients throughout the Southcoast region of Massachusetts. Call today at 508-999-3636 and speak with a qualified agent!