Do You Have Enough Insurance in New Bedford for Summer Fun?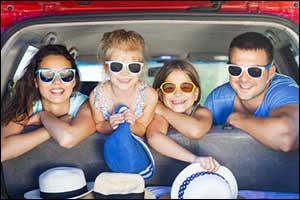 Whenever you do or add something new, it is always a good idea to speak with your MA auto insurance agent. The same holds true for homeowners or renters who have insurance policies in New Bedford. Summer often brings a lot of new things, such as backyard pools, vacations by the lake, road trips, landscaping projects, and other activities that have the potential to be a liability. If you are unsure about your coverage or would like to examine your current policy, make sure to contact your provider or home and auto insurance in New Bedford, MA and speak with an agent. This is one time that you don't want to go cheap on a home or auto insurance quote, and it is definitely a time that you don't want to assume anything about your existing coverage.
The Backyard "Stay-cation"
Everyone is talking about staying home, saving money, and providing the kids (and adults) with a relaxing stay-cation in the backyard. What better way to do that than to add a swimming pool or a trampoline? However, before you invite all of the neighbor kids over to play in the pool, enjoy a slip-n-slide, or bounce on a trampoline, you need to know about your insurance risks. Your local New Bedford car insurance and home insurance provider at Borden Insurance can help you determine whether you are properly covered for this type of risk.
Your best bet is to ask about something known as an umbrella policy, which will provide you for risks that are above and beyond your basic homeowner's policy. Depending on where you live, additional insurance may be required for a pool or other outdoor equipment, so it is always better to be safe and discuss your ideas with an insurance agent in advance. If you do not have proper coverage, not only do you risk not having protection when you need it, but your provider could cancel your entire policy if you do not follow the guidelines.
Recreational Vehicles
Another popular area of concern in the summertime is the use of recreational vehicles. Whether you purchase or rent a boat, ATV or camper, you should check with your MA auto insurance agent to find out whether or not you are covered. In most cases, an additional policy or coverage option will be required to cover the rental of boats, campers, and ATVs. You should not expect your basic New Bedford car insurance policy to cover all of this. Ask the rental or leasing company about adding insurance for these vehicles at the time of rental. However, if you are purchasing a recreational vehicle, it pays to stop in and chat with your agent to get a recreational vehicle or auto insurance quote.
Additional personal policies can be set up for boating insurance, rental insurance, RV insurance, as well as anything else you might want to purchase. In some cases, policies can be temporarily suspended in the off-season when the boat, ATV or camper is not in use, as long as it is stored properly in an indoor location so that it won't become damaged by winter snow and ice. Again, make sure to speak with your agent about home and auto insurance in New Bedford, MA, and the surrounding area to find out what is covered, what needs coverage, and how you can protect all of your assets during the summer months.
Road Trips
So you've decided to get your motor running and get out on the highway? Good for you! The all-American family road trip is filled with fun memories, exciting adventures, and lots of great keepsakes. Just make sure one of your memories doesn't involve getting into an accident just to find out that you didn't have the right New Bedford car insurance coverage. Before you leave on that summer road trip, stop by and speak with your MA auto insurance agent. You can also get tips and ideas that will help you to enhance your family fun trip.
If you are flying to a new location for the summer, make sure to also ask about rental car insurance. Some policies offer protection to help you avoid purchasing that high cost per day insurance offered by the rental car companies, but it is always best to speak with your agent about auto insurance in New Bedford, MA before you leave town. You don't want to assume that you are covered or over-pay for insurance that you don't need, so it's a good idea to visit Borden Insurance and speak with an agent in advance of your family fun vacation.
Call Borden Insurance
Give us a call today at 508-999-3636 and get a FREE auto insurance quote for your vehicle. Borden Insurance has been providing top quality insurance policies and protection to the SouthCoast communities since 1909. Our goal is to provide comprehensive insurance solutions that will help you protect the things that you value most in life. Call today to speak with an MA auto insurance agent about your current coverage and plans for the future.