Allergen-Free Car Ownership Tips from MA Auto Insurance Agents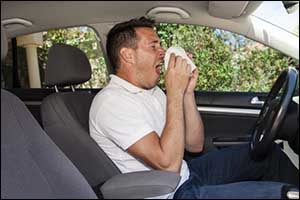 In just a few short weeks, allergy sufferers will be receiving the full force of seasonal allergens as they venture outdoors to enjoy the spring weather. Pollen from grasses, trees, flowers and more will soon be making its way into our homes and our vehicles. You can roll the windows up, but allergens can impact you and, even if you don't have seasonal allergies, they can still negatively impact your vehicle. Springtime is the best time to take care of your cabin air filter to make sure it is ready to take anything the season can throw at it.
Your MA auto insurance agent wants to help you find new ways to protect your vehicle. Pollen can cause damage to your vehicle, both inside and out. Your New Bedford car insurance policy is designed to protect you from many different things, but there are certain types of preventive maintenance and cleaning that must be done to protect your investment. From monthly car payments to insurance, fuel and oil changes, you put a lot into your car on an annual basis. Part of having auto insurance in New Bedford, MA is taking care of the little things like washing the pollen off your paint job and performing preventive maintenance.
What Does the Cabin Air Filter Do?
Let's be honest, most of us don't even think about the cabin air filter until the guy at the oil change place tells us that it needs to be changed and that it will cost X-amount of dollars to get the job done. Most of the newer vehicles that have been around since 2000 or so have an interior air filter that is used to screen out all sorts of pollutants. In addition to keeping pollen, dirt, dust and other allergens out of the interior of your vehicle, the cabin air filter also prevents your HVAC system from becoming clogged.
Changing the cabin air filter helps your air conditioner system to work more effectively and efficiently, which is why your local insurance agency in New Bedford, auto mechanics, and auto manufacturers nationwide recommend that you change it at least once each year. If you live in an area where there is a lot of pollen, pollutants, and allergens in the air, your MA auto insurance agent and cabin air filter manufacturers recommend that you change it more frequently. One good way to remember to change this filter, which will run you about $10-40 at the local auto parts store, is to change it every spring and fall, similar to changing the filters on your home's HVAC system.
Where is the Cabin Air Filter Located?
Now that's a good question! The answer isn't all that easy, though, so it may take a little bit of investigation on your part to find it. Check the owner's manual for the make, model and year of your vehicle or you can provide that information to the local auto supply shop and they can look it up for you on the computer. They will also be able to tell you the part number of the filter that you will need to buy, based on the type of filter used by your vehicle.
Your New Bedford car insurance agent recommends that you write this information down in the "memo" section of your owner's manual or on your log that you use to keep track of oil changes. That way you will have the part number handy the next time you need to change out the cabin air filter. Your MA auto insurance agent has lots of other great tips and ideas that you can use to keep track of all your preventive maintenance services throughout the year.
In most cases, you will find the cabin air filter under the hood near the base of the windshield. Some manufacturers like to put it in the glove compartment. It seems a little weird, but you just pull out the glove compartment and the air filter will be right there. If you still can't find it, consider contacting the local dealer for the manufacturer. You don't have to pay a service provider to change the cabin air filter for you. The hardest part is usually just finding it in the first place.
Get a FREE QUOTE from Borden Insurance
If you are looking for auto insurance in New Bedford, MA or the surrounding area, contact Borden Insurance for a FREE QUOTE. We provide a wide range of personal and commercial insurance policies at our well-known and respected insurance agency in New Bedford. If you already have a policy with Borden Insurance, you can contact one of our experienced MA auto insurance agents to ask questions about your coverage or to make adjustments to your information on record. Give us a call at 508-999-3636 and get quality coverage from the team at Borden Insurance.