Oh Deer! What to Do? New Bedford Car Insurance in an Accident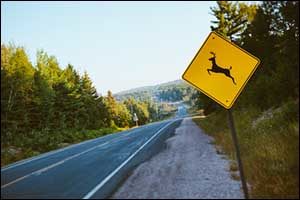 One of the scariest types of accidents that Massachusetts drivers can get into is when they have a collision with a deer or other type of wildlife. These are common occurrences here in the northeast where there are many vehicle versus deer situations. Wildlife accidents can happen throughout the year and even in the winter season, as not all animals hibernate during these months.
Even the most cautious driver could have a run-in with a deer, due to the large population of these animals in our region. Fortunately, your car insurance can help you get back on track after any type of accident. It is important to know what to do with regard to your Massachusetts auto insurance policy and how to get in touch with your New Bedford auto insurance agent right away in the event of an accident.
Step One: Check Yourself and Your Passengers
It is important to make sure that everyone is okay after an accident. If anyone believes that they may need medical attention, call 9-1-1 and get some help to the scene right away. Don't let anyone move if you suspect that they have a neck or back injury of any kind.
Step Two: Don't Approach the Animal
The biggest mistake you can make is to try to approach the animal to check on its condition. This can be hard, as most drivers just feel awful when an animal gets struck. However, deer can be quite dangerous, especially if they are startled, in pain or injured. When you call 9-1-1 let them know that an animal was involved so they can send a professional out to check.
Step Three: Move Your Vehicle to Safety
If you are in the middle of the road, make sure to move your car out of traffic to a safer location and put on your hazard lights. If it makes sense to do so, you can put safety cones or markers out to signal the accident to other drivers. This can help to keep you and your family safe while you wait for assistance. However, in most instances this is not necessary, so it is best to stay safe in your vehicle.
Step Four: File a Police Report
If your car is off the roadway, the animal does not pose a risk to other drivers, and no one is injured, you can still contact the non-emergency number to get assistance and to make a police report. You can get out of the car once help arrives, inspect your vehicle for damage, and determine whether you can drive it to your destination or if it should be towed. If you see any tire damage, fluids leaking out, or if the hood or trunk won't latch and shut properly, chances are you should get your car towed.
PREPAREDNESS TIP: When you get your auto insurance quote for car insurance in New Bedford, you should have specified whether you wanted roadside assistance, towing assistance or rental car provisions. If you aren't sure what coverage you have, your New Bedford car insurance agent should be able to answer any questions that you might have.
Step Five: Contact Your Insurance Agent
Once the police report is filed and you have left the scene, make sure to take some time to catch your breath and contact your local Massachusetts auto insurance agent at Borden Insurance. Our team can help answer any questions you might have, guide you to make arrangements for repairs and placing the insurance claim.
Before You Get in an Accident
Prepare for the unforeseen future by making sure to get an auto insurance quote from our team at Borden Insurance. We can help you find the best coverage for car insurance in New Bedford, Dartmouth, Freetown,  Fairhaven and the surrounding area at a price that you can afford. While no one can determine whether they are going to be in an accident and could need to use their Massachusetts auto insurance policy in the future, the more you can do to prepare for and prevent an accident from occurring in the first place, the better off you will be. Give our agents a call at 508-999-3636 to get a FREE auto insurance quote or to go over your existing policy at Borden Insurance in New Bedford, Massachusetts.