New Bedford Homeowners Insurance & Safety Tips for Snowbirds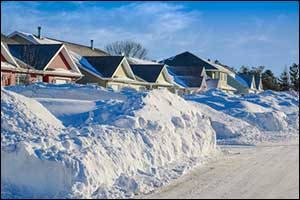 If this year's annual dumping of snow and ice has made you consider heading south for the winter with the rest of the local snowbirds, there is something that you need to know to protect and safeguard your home while you are gone. It pays to work with your New Bedford insurance agent and speak to them about all the precautions that can be made while you are out-of-town.
MA homeowners insurance is designed to protect your home in case of an emergency, but there are still common sense tasks and services that you need to take care of before you head down to Florida. It is important to learn all you can about the requirements of your New Bedford homeowners insurance policy, whether you will be gone for the entire season or are just taking a post-holiday extended vacation.
Create a Systems Checklist
Take stock of all the major systems inside your home and create a checklist to ensure that everything is working properly and has been serviced by a professional. This includes plumbing, electrical and heating services, as well as your hot water heater, kitchen stove or anything else that could potential go wrong when you are not at home. While you might think that everything is in good working order, Murphy's Law almost always dictates that not only will it go wrong, but it will likely occur when no one is there to stop it. You don't want to come home to find that your pipes froze, your basement flooded or that something caught on fire simply because you failed to have the systems checked before you left. These can lead to huge claims on your policy.
Unplug the Appliances
If you are going to be gone for the entire winter, or an extended period of time you will want to either keep the thermostat set above 62F degrees, or drain all the pipes and plumbing.  Most Your insurance policy warrants that you do either.  You will also want to unplug appliances, such as washers, dryers, dishwashers, refrigerators, and freezers. Clean everything out, dry it out good, and prop the doors open so they won't mold or mildew if any moisture accidentally remains. This will prevent leaks, floods, and other issues that can potentially occur when you are out-of-town. Speak with your New Bedford insurance agent for a list of other items that you may want to unplug before you fly south for the winter.
Check the Smoke Detector Batteries
Even if you won't be home to hear it, it pays to make sure that your smoke detector batteries are fresh and working properly. Change them out every six months like clockwork to avoid forgetting. Some homeowners do this at the 1st of October for Fire Safety Month and then again in the spring on April 1st. If you have a carbon monoxide detector, make sure to change its batteries at the same time. Check with your home security monitoring system to find out about including smoke and carbon monoxide detection in with your services, so the agency can contact 9-1-1 if a fire breaks out or if there is a problem in your home while you are gone.
Arrange for Mail & Newspapers
Get a friend, neighbor or family member to come by on a regular basis to retrieve and hold your mail for you while you are gone. The same goes with newspapers. Stop service while you will be out-of-town, but have someone check to make sure that local city papers, flyers, phone books and other items are not being placed on your porch or tossed in your driveway. Not only will they get ruined in the winter weather and create a mess, but they also signal to potential burglars that no one is at home.
Clean the Gutters
We all hate to do it, but it is part of northeastern living. Check your gutters and clear out any leaves, twigs, pine needles or other debris that have found their way inside. This will prevent water from building up, freezing, and causing damage while you are gone. Consider having your gutters and roof inspected as well before you leave, to ensure that there isn't any ice dam build-up that could cause damage. Speak with your agent about home insurance in New Bedford and your responsibility with keeping your gutters and roof clear to prevent damage. MA homeowners insurance is designed to protect you from things outside your control, but you need to take preventive measures and perform regular maintenance as well.
Critter Prevention
Consider having your home checked by a professional to ensure that mice, squirrels and other rodents won't be able to get inside while you are gone. There's nothing quite like coming home from a long trip to the beach, just to discover that there has been a raccoon party in your bedroom while you are gone. You should also consider having your home sprayed for common pests, such as cockroaches, crickets, ants, and other insects that could become an issue if left unchecked. Make sure that there isn't any food or other things left out and available that they might get into while you are gone.
Before You Go Out of Town
Make sure to advise local law enforcement that you will be gone and provide them with contact information. Ensure that your home security system is in good working order and contact your New Bedford homeowners insurance provider to go over your policy before you leave. Also make sure that they have accurate contact information in case your New Bedford insurance agent needs to reach you for any reason. Give Borden Insurance a call at 508-999-3636 or stop by our office to speak with one of our agents.