How to Save Money & Protect Your New Bedford Home in Winter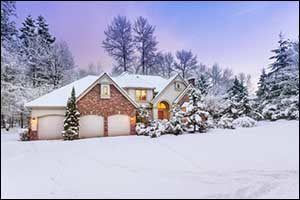 There are two things that every homeowner should strive to do, regardless of the season: save money and protect your investment. Insurance companies in New Bedford, MA and the entire New England region, work diligently to help their clients find new ways to protect their homes from potential hazards throughout the year.
When it comes to cold winter weather, snow and ice, prevention really is key. Your Massachusetts homeowners insurance is designed to protect you from things like fire, theft and certain extreme weather conditions, but when it comes to the typical problems of the season, you are responsible for making sure that your home is safe and sound.
Speak with your local New Bedford insurance agent at Borden Insurance for a home insurance quote or for even more tips on how you can protect your Southeastern Massachusetts home this winter season.
Tip #1 – HVAC Inspection
Whenever possible, join your HVAC service provider's annual service program, which provides a twice-year inspection of your heating and cooling system. Even if you are unable to do anything else with regard to seasonal preparation, having a professional check your furnace every year for safety and energy-efficiency is the one thing that should always be done. Nearly 50 percent of the average utility costs in the northeastern states comes from heating in the winter, regardless of the heat source. Make sure to check and replace filters throughout the season, every one to two months; clean the vents and have your ductwork checked if you see any dust or dirt on the wall near your vents, which could indicate a leak. Not only will these annual inspections help homeowners to reduce energy consumption, but they could also increase the life of your HVAC system.
Tip #2 – Insulation & Air Sealing
How good is your home's insulation? Insurance companies in New Bedford, MA and the surrounding area have a lot of clients who do not have sufficient residential insulation or a proper air seal. Weatherizing your home is important all year-long. If you have certain rooms or areas inside your home that are colder in winter than the rest of the house, yet are also warmer in the summer than the rest of the living space, chances are good that you are lacking insulation in those areas. Hire a pro to come out and replace damaged weather-stripping and do a home energy audit to see if you could benefit from retrofitting new insulation in your attic or exterior walls.
Tip #3 – Control Humidity
Another common problem that your New Bedford insurance agent has seen during home inspections is issues with uncontrolled humidity. Inadequate venting can cause homes – both old and new – to have issues with humidity indoors, which can lead to the development of mold, mildew and damage to the structure. Not only does this cost a lot of money for repairs and replacements of drywall and other materials, but it is also a health hazard. While some homeowners try to control excess humidity with a dehumidifier, it is important to discover the root cause of the issue and solve it at the source. Contact a licensed, experienced contractor to perform an inspection and make repairs to prevent humidity from occurring again in the future and to repair any damage before it becomes serious.
Tip #4 – Landscaping Solutions
Some of the best ways to protect your home in the winter are to take care of outdoor chores that can ultimately cause damage over the winter. Cleaning out gutters to remove leaves, pine needles, twigs and other debris can help to prevent ice dams from forming on your roof. Inspecting your gutters for damage and replacing them if necessary can also be beneficial. Raking up the leaves from the yard and properly disposing of them can help to protect your lawn and assist in new growth when the snow melts and springtime weather returns. Trimming up trees and shrubs that could cause issues near the roof, HVAC system or entrances of your home is highly recommended by your New Bedford insurance agent. You might be surprised to learn how many claims made to insurance companies in New Bedford, MA could have been avoided by just a little landscaping work. Unfortunately, if obvious neglect is the cause of the damage, those claims might not be paid.
Tip #5 – Check Your Policy
You should make an appointment with your New Bedford insurance agent to go over your Massachusetts homeowners insurance policy at least once each year, more frequently if you do any major remodeling, renovations or repairs. Make sure to always update your agent at local insurance companies in New Bedford, MA so your home will be properly insured and protected.
Contact Borden Insurance in New Bedford
If you are interested in getting a home insurance quote for Massachusetts homeowners insurance, car insurance or other types of personal insurance policies, give us a call at 508-999-3636. Our team of highly trained and experienced insurance agents will help you to find the policy that best suits your individual needs and your budget.