Does Your Car Have the Right Tires for Winter in New Bedford?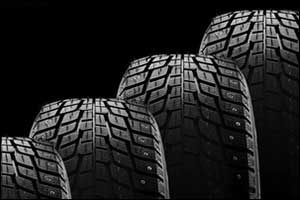 Vehicle owners in the northeastern states have a responsibility to ensure that they have the proper tires for the weather conditions. Your Massachusetts auto insurance provider wants to make sure that you learn all you can about vehicle safety year-round. If you have any questions about car safety and how it can positively or negatively impact your New Bedford car insurance policy, contact your MA auto insurance agent for details. You are legally required to have car insurance in New Bedford to protect yourself and others on the road from financial liabilities due to accidents and other incidents. Borden Insurance Agency has been providing local residents with top quality auto insurance for well over 100 years.
Why Tires are Important
Your tires are the contact between you, your vehicle and the road. When road conditions are wet, slippery, snowy or icy, you need quality tires that are in good condition, preferably a brand and style that is designed for winter weather. Whether you are making a daily commute to and from work, or planning a holiday ski vacation in the mountains, it is important to make sure that you have the best tires to suit your needs. Having the right kind of tires can mean all the difference between having a safe trip or a potentially disastrous experience.
It may seem obvious that you just need to get "winter tires," but as you know from looking at different policies with your MA auto insurance agent, there are lots of options. It is important to get the style, size and type of tire that is designed for your vehicle and for the type of driving that you will be doing. Tires that fall under the category of "winter," are designed to provide the very best handling ability and traction in snow, ice, slush, and other seasonal weather conditions.
People who live in the northeastern states, like Massachusetts and Rhode Island, should definitely invest in a good set of winter tires. Don't fall for the hype of only getting winter tires on the front or on the back. If you are going to get winter tires, make sure that you match all four tires for best results. Mismatched tires can cause handling issues and won't provide you with the increased traction that you require in winter weather.
Winter Tire Basics
The primary difference between winter tires and all-season tires, is that winter tires will provide you with greater tread depth. They also use something known as "siping," which is a process that puts slits into the tread. This helps to increase the number of edges that come in contact with the road, which is part of how it provides better handling and traction. Winter tires are also made out of rubber compounds that are designed to stay soft even in freezing temperatures, giving them an edge over all-season tires.
There are two primary types of winter tires that you should consider. The first is known as "performance" winter tires. These are designed for use with light snow and ice conditions. The second is known as "studless snow and ice" tires. As you can probably guess by the name, these tires are designed for deep snow and heavy ice conditions. So if you live in a city area that gets plowed regularly and aren't planning a trip up to the mountains to ski, the performance series might be right for you. However, if you live in a rural area or do a lot of traveling during this time of year, you would be better off with the heavy snow tires instead.
Proper Tire Care Year-Round
Your Massachusetts auto insurance provider of New Bedford car insurance wants you to know that in addition to getting the right tires, it is important to also maintain them properly for best results. Tire pressure is important for good traction and gas mileage year-round, but during the winter you should check the pressure once a week to make sure you are not over or under-inflated. Under-inflated tires can increase the chance of a blowout, while over-inflated tires can reduce traction severely. Learn how to properly store winter tires during the off-season so they will be ready for use again the next year.
For more winter driving tips, contact your MA auto insurance agent at Borden Insurance. If you are in the market for car insurance in New Bedford and the surrounding area, contact our office to get a FREE QUOTE. We also provide home insurance and other personal insurance policies. Give us a call at 508-999-3636 or stop by our location on Kempton Street in New Bedford, Massachusetts.