Protect Car Exterior in Winter: Auto Insurance in New Bedford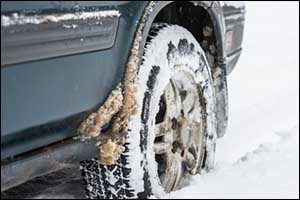 The most damaging season for car exteriors by far is winter. Not only is there snow, ice and road hazards galore, but there's also salt, road oil, gravel, sand and de-icing chemicals to consider. Borden Insurance Company in New Bedford wants to help you find new ways to protect your vehicle year-round. Auto insurance companies nationwide reveal that there are things that car owners can do to protect their investments, that really don't take a lot of time and effort. If you need auto insurance in New Bedford, stop by Borden Insurance. We can give you a FREE quote for New Bedford car insurance and provide you with options for coverage that you won't find at many other local insurance agencies.
Start by Sealing the Paint
Did you know that you can add an extra layer of protection to your vehicle to help seal the paint and prevent damage? Even if you garage your car in the winter, you should take steps to protect it from exposure when you are out on the road. Your best bet is to use a paint sealant, such as a synthetic wax. It is better to guard against damage caused by water, road salts and chemicals. Unlike other types of wax products, the polymer ingredients found in synthetic wax help to create a true sealant that is tougher and more difficult for these hazards to penetrate.
The approximate life of a quality synthetic wax is five to six months, which gives New Bedford car insurance policy holders more than enough time to cover even a long New England winter. Make sure to choose a reputable brand and apply it properly, according to the manufacturer's instructions. Failure to do so could result in costly damage to your vehicle. If your vehicle is still under warranty from the car dealer, contact the dealer directly to ask about recommendations for paint sealers that won't void your warranty and will protect your car from damage.
Keep Your Car Clean
You might think that the craziest thing you could do in the winter is to take your car to a car wash, but the truth is that regular car washes during the winter will help to keep your car looking great all year-long. Auto insurance companies and manufacturers now recommend that car owners get their vehicles washed to prevent scratching from debris that can kick up from the road and find its way onto the vehicle. Scratches can lead to further damage, as the moisture from cold, wet weather makes its way into the car's paint. The freeze-thaw cycle can occur here as well, weakening the paint and causing it to crack and fall away.
Once the paint falls off, your vehicle becomes vulnerable to oxidation and rust. The best way to reduce this type of damage is to wash your car regularly during the winter and, when you do so, also check for any paint chips, scratches or cracks in the surface. If you notice anything out-of-place, make sure to bring your car in for detailing and repairs right away. Make sure to seal any new paint or repairs to your car's paint job and surface with paint sealant for extra protection. Ask an agent at your insurance company in New Bedford about any additional tips that you can use to help keep your car looking new.
Protection for the Inside
It is also important to provide protection for the inside of your vehicle. Leather interiors get a lot of damage in the winter months, as does floor carpeting. The cold and dry winter air pulls the moisture away from leather. You can treat it before the freezing temperatures kick in by using a winter leather care product and conditioner. This must be done before temperatures get below 50 degrees or the leather won't accept the conditioner products. Again, if you aren't sure what to use, contact your local car dealer, especially if your vehicle is under warranty.
Use plastic floor mats to protect interior carpeting from repeated abuse by snow, ice, salt, dirt, mud, slush, chemical, oils and much more. Look into Scotch Guard for carpeting in addition to using floor mats, if your vehicle hasn't been treated with it already. Check out websites or speak with your car dealer about other treatments that can be used to protect vulnerable carpeting throughout your vehicle.
Get a FREE Auto Quote from Borden Insurance
If you are in need of auto insurance in New Bedford and the surrounding area, contact Borden Insurance Company in New Bedford by calling 508-999-3636. Our team of knowledgeable and experienced insurance agents can help you get the coverage you need for New Bedford car insurance. Call today or visit our office located in New Bedford, Massachusetts.