New Bedford Home Insurance: Vacation Burglary Prevention Tips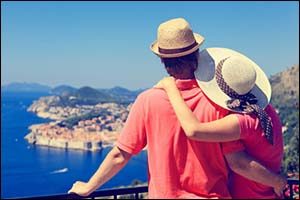 Late spring and summer are the two most popular times of year for families to head out on vacation. Unfortunately, vacation time – both now and during the winter holidays – is also the most popular time for home burglaries and vandalism. Your MA homeowners insurance agents at Borden Insurance want to help you find new ways to protect your home when you are out-of-town. Some of the security measures that you can put into place may even make you eligible for discounts on your New Bedford home insurance.
If you are a new homeowner, make sure to visit your local insurance agency in New Bedford to get a home insurance quote. If you are an existing homeowner with Borden Insurance, make sure to update your information with one of our agents to ensure that your home is properly protected year-round. You can contact our office by calling 508-999-3636.
Don't Be a Target
Data released by the FBI revealed that visibly empty houses are prime targets for break-ins and vandalism here in the United States. Approximately 2.1 million burglaries occurred in our country when the study was conducted in 2010, averaging around $2,100 in losses and related damages per incident. While you might be diligent in locking your doors and windows or even putting your interior and porch lights on a timer, there are still other things you can do to prevent becoming a target for area burglars and vandals.
Step One: Stop the Presses!
Contact your local newspaper delivery company and put the paper on hold a few days before your trip and a few days after, just to give you a cushion of no deliveries. Ask a neighbor to double-check and make sure papers don't start piling up in your driveway, just in case.
Step Two: Stop the Post!
Contact the local post office and ask them to hold your mail for you until you return. There is a short form to fill out at the post office that includes a stop date and a start date. It is a simple step that will help to prevent your mailbox from filling up with advertisements, magazines and other letters that could get stolen while you are gone (identity theft!) or would make you a target of thieves looking for vacant homes.
Step Three: Stop Social Media!
Do not post your plans to go on a trip on social media sites such as Facebook or Instagram. While it might be tempting to share your adventures with friends and family, don't post anything until you get home just in case.
Step Four: Stop Advertising!
Don't tell people at the office that you are going out-of-town, don't discuss travel plans in public or with casual acquaintances and definitely do not leave a note on your front door that says you are not home.
Step Five: Stop Snoopers!
The best way to prevent someone from breaking into your home is to stop them from snooping. Outdoor lighting, photocell activated and motion detection, are great deterrents. Just make sure the motion detection isn't so sensitive that it switches on every time the neighbor's bushes blow in the wind. Don't close up all of your blinds and curtains, but leave them in their normal positions as you would if you were home. A "locked down" looking house is a dead giveaway that no one is home.
Step Six: Stop the Ringing!
Turn down the volume on your home phone and answering machine so people won't be able to hear it from outside the house. If you can shut the volume off completely, that's even better.
Step Seven: Stop Trespassers!
About a month before you trip, take care to trim up trees and bushes to eliminate hiding spots for trespassers. Lock your garage from the inside using the extra locking mechanism to prevent entry from the garage.
Step Eight: Stop Ignoring the Details!
Other things that you will want to do is to ask a neighbor to park their car in your driveway if you will be taking your vehicle. If you are leaving a car at home, make sure it is locked and park it in the driveway instead of inside the garage. Pay a neighbor to take our your trash, mow the lawn or shovel snow, depending on the season and how long you will be gone. Burglars look for all of these signs of neglect to identify vacant homes.
Contact Your New Bedford Home Insurance Agent
Before you go out-of-town, contact your local MA homeowners insurance company to make sure that your policy is up-to-date. Ask about security systems and other programs that can help to keep your home safe while you are on vacation and when you are back at home. Your insurance agency in New Bedford can help you find solutions that will keep you and your belongings safe. Give Borden Insurance a call at 508-999-3636 to get a FREE home insurance quote today!