New Bedford Homeowners Insurance: Security Tips for Your Home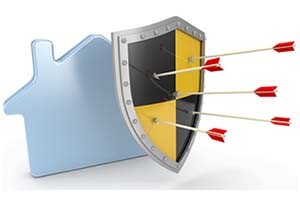 One of the best ways that you protect your real estate investment is to get MA homeowners insurance that provides you with the coverage that you need for your new home. When you work with a reputable insurance agency in New Bedford, like Borden Insurance, you can rest assured that you have been given all of the best options available in homeowners insurance for Massachusetts.
Another way to protect your family outside of getting a New Bedford insurance quote at Borden Insurance, is to think about security. Home security can be about an alarm system, but it doesn't have to stop there. Believe it or not, there are lots of little things that you can do as a homeowner that will protect you, your assets and your loved ones. In fact, all of the items on this list are easy enough to do that you could take care of them on your honey-do list for the weekend!
STEP ONE – Change the Locks
Did you know that most homeowners move into a new house and never change the locks? Let's just think about that for a minute. Did you know the people who owned your home before you? Why would you trust the safety and security of your family to a bunch of people that you don't even know? Depending on the number of doors that your home has, it might cost you less than $100 to change out all the locks – a little more if you decide to upgrade to a touch pad security or bio-security lock for you and your family members.
STEP TWO – Get an Alarm
There are lots of different types of alarm systems at many different price points. Regardless of your budget, there is an alarm system that is right for you and what you can afford. Speak with your New Bedford home insurance agent to find out what alarm systems might make you eligible for discounts on your New Bedford auto insurance quote and premium. You might be surprised at how much you can save.
STEP THREE – Get Timers
One way to keep burglars at bay is to use timers for your lights. A team of professional thieves will often watch a neighborhood to see which homes are empty into the evening, so if you work late or might be away from home on a trip, consider adding some automatic timers to turn lights on and off throughout the evening while you are gone. Check with your MA homeowners insurance policy to make sure you are covered for theft and ask your agent about other ways to prevent break-ins.
BONUS TIP – If you are going to be out of town for awhile, ask a neighbor to pick up mail and newspapers or ask the post office to hold them and put your paper on hold while you are gone. Burglars will often look for piles of papers or mailboxes full of mail to spot an empty house.
STEP FOUR – Safeguard Keys
Another way that homes get broken into is when the owner of the house leaves a key outside in case they forget theirs or get locked out. Keys under the doormat, in a fake rock, in the mailbox, under a ceramic frog or even hidden on top of the door jam will get found and used to steal your valuables. If you must leave a key somewhere, wrap it in aluminum foil so it won't be as obvious and bury it or place it somewhere away from prying eyes and only tell close family where it is located. Change the spot often in case someone is watching to see where you hide your key.
STEP FIVE – Outside Lighting
Another great way to deter would-be thieves is to use outside lighting to brighten up the front of your home. Consider adding solar powered motion detection lights around the side and back of your home as well. Check your home at night to see places where someone could hide and surprise you, such as behind trash cans or near a bush. Trim down landscaping and move things that could serve as hiding places to make your entrance and exit even more safe.
STEP SIX – Install Deadbolts
If your home doesn't already have deadbolt locks on the exterior doors, you should think about installing them. Again, speak with your insurance agency in New Bedford to find out if there are any discounts for having additional locks. Your agent may have some additional safety and security ideas to share with you that can help to secure your home.
STEP SEVEN – Sliding Doors
You should get a metal bar to place along the track of any sliding doors, sliding windows or other similar types of doors and windows to prevent a burglar from making their way into your home. Get in the habit of locking down your home in the evening before bed and make sure that the windows and doors and all locked up before you leave to go to work or go away for any length of time.
Contact Borden Insurance in New Bedford
If you are interested in getting a New Bedford insurance quote for MA homeowners insurance in the South Coast area, contact Borden Insurance. Our team of qualified and experienced insurance agents can help you get the very best policy for New Bedford home insurance available with the coverage you need and at a price that you can afford. Call today at 508-999-3636 and find out why so many Southeastern Massachusetts residents trust Borden Insurance for their homeowners insurance needs.