New Bedford Auto Insurance Agent: Winter Safety Driving Tips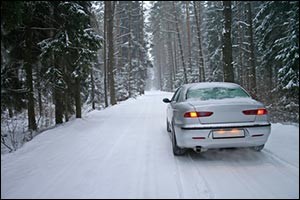 Drivers need to exercise extra caution when driving in winter weather. Not only do you need to know how to protect yourself and others while driving in the snow and ice, but you also need to know certain rules for protection sand safety when you get home. Driving in slippery and wet winter weather can be dangerous for travel in the local area. Your auto insurance in New Bedford, MA can help you out with even more tips and ideas to help improve your winter driving experience. Speak with a MA auto insurance agent to make sure that you are adequately covered by your New Bedford car insurance policy.
Tips from AAA – Winter Safety
The following tips are taken from a winter safety bulletin that was handled out by the American Automobile Association (AAA). The goal of AAA is to inform and educate its members, while helping motorists stay on top of the latest safety rules for driving during difficult road conditions and tips for dealing with emergencies.
The top seven tips provided by AAA and your local MA auto insurance agent include:
check tires regularly to make sure they are properly and evenly inflated
do not ever mix regular radial tires with other types of tires
make sure the gas tank is at least halfway full in case of emergencies and to prevent freezing
do not drive if you are tired; make sure to get enough rest before driving in bad winter weather
never use the cruise control option when driving on slippery surfaces, including ice, wetness or water and sand
always wear your seat belt and make sure that your passengers do too
don't ever warm up your vehicle inside the garage unless the door is open
Long Distance Driving
There are some instances where it absolutely can't be avoided to go for a drive on a long trip. It is important to make sure whether or not the insurance coverage that you have with your auto insurance in New Bedford, MA is adequate to cover you from any accidents or injuries that are common in this type of weather. Your MA auto insurance agent should be able to help you with any questions that you might have.
Some of the tips provided for individuals that are driving long distances include:
keeping an eye on weather reports for storms or other types of bad weather that are heading your way before you set out on your trip
get your vehicle inspected regularly, either by your contractor or a mechanic that you trust to do the job right
gas up your vehicle and keep a minimum of half a tank of gas to prevent the fuel lines from freezing up and to have just in case you get stuck or have another issues
keep phone numbers for your New Bedford car insurance agency, your MA auto insurance agent locally, as well as any other important numbers
dress warmly with boots, sweaters, jackets, coats, mittens, gloves, scarves and any other typical articles of clothing that will help to keep you warm
pace yourself – you don't need to shovel that driveway and walkway until the point of exhaustion ; ask for help or consider using snow and ice melting products to make it easier
check the pipe – make sure that the exhaust pipe is not clogged with snow or blocked off in some way, as deadly carbon monoxide gas could get inside the vehicle
Driving in the Snow
It is important to learn safe driving tips for driving in the snow and ice. Your insurance agency in New Bedford has tons of great tips available for drivers that will help them to stay safe while driving in the snow. Learn how to apply the gas slowly when driving in snow. This can help you to gain better traction and avoiding making a skid. Slow and steady wins the "race" in this case, so remember to take your time. Increase the amount of space between you and the vehicle in front of you from three to four seconds on up to eight to ten seconds. This increased margin of safety space will help you be able to stop safely in case of an emergency.
Contact Borden Insurance in New Bedford
If you are interested in getting a quote for New Bedford car insurance through Borden Insurance, give us a call at 508-999-3636. Our team of highly trained and effective MA auto insurance agents can help you get the auto insurance in New Bedford, MA that you need for proper coverage. Call today and get a FREE quote on our auto and home insurance right here in Southeastern Massachusetts.