Backyard Safety Tips for New Bedford Homeowners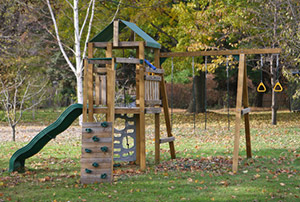 Summertime means lots of fun in the sun and your backyard can be a great place to enjoy the season with family and friends. Beyond sunblock and insect repellant, there are other areas that need your focus and attention in order to create a safe haven for you and your guests. This article will focus on some of the common safety hazards that are found in the average backyard, with tips for Massachusetts homeowners that can be used to improve safety and reduce risk as you celebrate hot sunny days and cool summer nights under the stars.
Children's Toys
One of the best backyard safety tips is to always check children's play equipment and toys on a regular basis, particularly in the spring after winter weather thaws and melts away. Tree houses, jungle gyms and swing sets are common safety hazards because they can become damaged year-round due to weather changes and exposure, leading to serious injury. Make sure all equipment is on a level area and that swing set or jungle gym legs are safely set in concrete. Check for nails, bolts of screws that may have come loose that could scratch or snag children. Check wood for signs of rot or damage from the winter weather and always inspect tree houses to make sure that the support branches didn't suffer any winter damage either.
Dangerous Chemicals & Tools
Because we tend to use pesticides, weed killers and other chemicals in our backyards, we often store them in a convenient location, either in sheds, garages or other types of storage bins. Make sure that you store all tools in a safe place so that no one accidentally steps on them and that sharp items are locked away out of reach of children. Never use pesticides when pets or children are in the yard and never allow them near the application areas until the chemicals have completely dried. Don't use pesticides on windy or rainy days and wear protective clothing, such as eye protection, long pants and long sleeves, while spraying. Make sure to completely wash your hands after using any chemicals or pesticides.
Holes in the Yard
There are a lot of things that could cause holes to appear in your yard. Leftover modifications from landscaping or construction contractors, tree roots that are dying under the surface or even pests that are tunneling into your yard. Holes are common safety hazards that can lead to injuries, such as broken bones or twisted ankles. If you see any signs of loose soil piling up around a hole, it is more likely insect or animal that is at work. Contact an exterminator to find out what it is and see what your options are to get rid of or relocate the pest. Fill in any holes that you see in your yard that aren't caused by pests and make them as level as possible to avoid potential injury.
Safe Grilling
Whether you are throwing a big party with lots of guests or just grilling up a couple of hot dogs for you and the family, barbecue grills are just one of the many causes for potential safety issues for Massachusetts homeowners. Careless grilling can lead to house fires, personal injury and even explosions, if you don't know what you are doing. If you have a gas grill, make sure to check it for holes, blockages and leaks that can occur in the hoses during the off-season. Never walk away from a lit grill – even for a second. Make sure your grill is located far enough away from your house or deck that it won't lead to a dangerous claim on your homeowners insurance in New Bedford. For charcoal grills, make sure that the charcoal is properly extinguished and cover with a lid for at least a half hour to deprive flames of oxygen. Never store grills indoors that contain used coals, as they could fill your home or storage space with carbon monoxide.
Protecting Your Family Home
Whether you own or rent your home, it is important to make sure that your home and your family are properly protected. In addition to learning how to avoid common safety hazards and adhering to important backyard safety tips, it is also important to make sure that your home is properly insured.
Homeowners insurance in New Bedford can protect your home and family, ensuring that you are covered in the event of accident, damage or injury. Massachusetts homeowners should speak with their agent to ensure that they have adequate in New Bedford or wherever they live in the Southcoast region.