Risk Factors Faced by Teen Drivers in New Bedford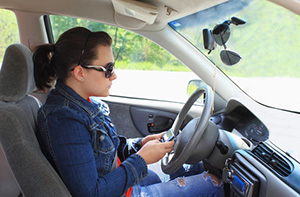 When most people think about teen driving risk factors, the number one factor is experience, or lack thereof. While it's true that teen drivers in New Bedford and across the country have fewer  years of driving experience than most other drivers on the road, it is actually distractions and a couple of other endangering factors that affect safety for teen drivers.
A non-profit teen driver education program known as Tire Rack Street Survival, recently released a study that showed the statistics for teen drivers in the past five years. Sadly, these statistics revealed that an average of eight teens between the ages of 16-19 were killed in a car accident each day during the past five years, with the summer months having the highest teen driving risk factors over any other time of the year.
The data was compiled by the Insurance Information Institute, which released a statement with its statistics that further emphasized that  inexperience and immaturity were some of the highest risk factors facing today teens. Those two factors attributed to poor judgement that would typically come with years of experience behind the wheel to avoid behaviors, such as tailgating, speeding, unsafe left-hand turns and giving in to distractions.
Teen Deaths on the Rise in America
Despite all of the education designed to improve driving safety for teens in our nation, yet another study that was compiled by the Governors Highway Safety Association or GHSA, showed that deaths for teen drivers between the ages of 16-17 were up by as much as 19 percent between 2011 and 2012. Last year was the second year in a row that revealed an increase in teen driver deaths after improvements had been made with eight previous years of declines in those figures.
For teen drivers in New Bedford and in every state in our nation, motor vehicle crashes are now the leading cause of death for persons between the ages of 15-20 and what's more disturbing is that more than half of those teens that died in car crashes were passengers. Studies show that the chance of a teen driver becoming involved in a fatal accident can double when a teen passenger is also in the car. Four times the risk is involved for teen drivers when three or more teen passengers get in the car.
The Top 5 Teen Driving Risk Factors
Most of the risk factors faced by teen drivers involve bad behavior and bad decisions. Distractions, such as talking on cell phones, text messaging or eating while driving are all seen frequently. Most teens do not wear seatbelts while driving or riding as a passenger, increasing the risk for death in an accident exponentially. Here is a list of the top five teen driving risk factors facing young drivers today:
#1 – Cell Phones
Studies show that drivers who use a cellphone while driving to talk, text or surf the Web are as much as four times as likely to get into a serious car crash than drivers who do not use cellphones while driving. A "no cellphone while driving" contract created between parents and teen drivers is a great way to improve driving safety for teens. If a teen driver gets caught texting or talking on a cellphone while driving, driving privileges can be revoked or restricted as punishment.
#2 – Speed
The rate of speed that a vehicle travels increases the risk for an accident. Unfortunately, most teen drivers also experience a reduced reaction time because of their lack of experience, making many speed-related teen accidents at high risk for death. 62 percent of teenagers surveyed admitted to have been in a car where drunk driving, speeding, street racing or otherwise reckless driving had occurred. Teen drivers need to understand that speeding won't just result in tickets and fines, but that it can result in serious or fatal accidents. Tied to speed is aggressive driving and tailgating. Despite seemingly common intuition, following closely behind another car does not one to their destination any sooner. It only increases risk and liability.
#3 – Alcohol
A study conducted in 2007 revealed that over one out of every four accidents that killed teen drivers and passengers between the ages of 15-20 were alcohol impairment related with a blood alcohol content of 0.08 or higher. Courses, information, statistics and education materials are available from Mothers Against Drunk Driving (MADD), the Centers for Disease Control (CDC) and the Insurance Information Institute to help arm parents with the tools they need to educate their teens about the real dangers of drunk driving.
#4 – Peer Pressure
Teen drivers that are unsupervised by an adult are much more likely to get into an accident when they have teen passengers in the car with them. Studies have shown that as the number of additional teen passengers increase – from one to two, from two to three – the accident risk factor also increases. Parents should consider limiting the number of passengers allowed in the vehicle when their teen driver first gets their license and adjust that limit according to the driver's maturity and responsibility as they gain experience.
#5 – Weather & Time of Day
Sometimes there are external influences that can increase teen driving risk factors. For all drivers, weather related factors such as high winds, limited visibility, wet roads and black ice all contribute to an increase in accidents. Teens are even more at-risk due to their lack of driving experience. The time of day can also be a factor. In fact, one study showed that over half of teen driver related deaths occurred between the hours of 3pm and midnight. 54 percent occurred on the weekends, covering Friday, Saturday and Sunday.
How to Improve Driving Safety for Teens
The Insurance Information Institute also stated that these risks facing teen drivers can be reduced. Here are some suggestions that can be used by parents to improve safety for teen drivers in New Bedford:
Talk – Discuss the dangers of alcohol and drug use with your teen, especially when driving.
Learn – Risks can be reduced by taking a driver education course or completing an advanced "safe driver program" where the dangers of distracted driving are explained.
Choose – Make better choices, such as picking a safer vehicle and knowing how to avoid common teen driving risk factors.
Involve – Parents need to get themselves involved in their teen's driving education and experience, set a good example on safe driving and consider whether or not your teen is ready to have a driver's license based on shown behavior not simply on their birth date.
Speak with your New Bedford insurance agent for more information on teen driving risk factors and to find out whether or not there are any recommended safe driver programs or training courses available to your teen in the area. When parents work together with their children to improve driving safety for teens, most of these risk factors tend to lower or disappear all together. Ask your New Bedford insurance agent for tips on teen driving success to make sure you do all you can to reduce or eliminate teen driving risk factors for your child.