Got a Pool in New Bedford? Here's What You Need to Know!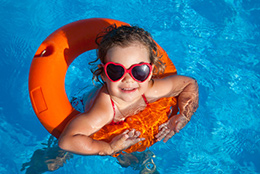 According to the City of New Bedford website, homeowners who install pools in their yards must be aware of certain responsibilities required by the city. First, a building permit must be issued and all requirements must be met. One of those requirements includes building a fence around the pool or yard. The fence must be a minimum of four feet in height, and must have a self-closing gate with latch for safety purposes.
In addition to city ordinances, there are many reasons why a homeowner would want to install a pool safety fence. A pool fence provides both safety and privacy. There are lots of options available today for pool fencing in New Bedford, giving homeowners lots of choices that can accent or blend in with the current landscaping to improve the look and feel of the property.
Choosing a Material
What type of material is best for your pool safety fence? The type that you ultimately choose will be based upon a combination of personal taste, the style of your home and your budget. Pool fences can be made of a wide variety of materials, including metal, composite, wood and mesh.  However, if you are looking for a budget-friendly option, a wood fence might be more affordable than metal.
When choosing the material for your fence, take into consideration:
maintenance – some materials require more maintenance than others
privacy – a private swimming area might be appealing
cost – some pool safety fence materials cost more than others
durability – choose a material that will last for many years
safety – some materials may provide more safety for small children and pets than others
Child Safety
One of the primary reasons why people install a pool safety fence is to prevent small children from wandering into the pool area, falling into the water and drowning. This pertains not just to your own children or grand-children, but local children that might spot your pool over the fence and try to use it when you are not at home.
Speak with your New Bedford insurance agent about any safety and insurance recommendations for homeowners that have a pool. Make sure you are covered for pool ownership on your New Bedford homeowners insurance policy. While some children will still attempt to climb fences to get in anyway, it is important to do everything you can to prevent unauthorized access to your pool.
Pet Safety
Another common reason that people install pool fencing in New Bedford is to keep their pets out of the pool. While most dogs are great swimmers, just like kids, swimming without supervision can be dangerous. Young puppies, handicapped or elderly pets in particular will benefit from adding such a barrier.  A pool safety fence will help keep your pets out of your pool, allowing you to invite them in only when you are there to supervise their activities.
Additional Barriers
While pool fencing in New Bedford is required for homeowners, there are other things you can do as well. Add key-entry or padlock entry access to your backyard gate to prevent easy access to your property. Consider adding motion-sensor lighting to your property so you can be alerted if someone enters at night.
Landscaping additions can also be beneficial. Plant a wall of thick, thorny bushes around the base of your pool safety fence. Check with your local home improvement or gardening store for ideas. Allow the bushes to grow three to four feet high as a deterrent to curious trespassers, adults and children alike. In addition to preventing unwanted access, thick bushes will also boost your privacy while you enjoy your pool.
Protect Your Home and Family
Speak with your insurance agent about fine-tuning your New Bedford homeowners insurance policy to include any changes, upgrades or additions that you have made since you first purchased your home. Some changes can mean insurance rate discounts, while others may require you to purchase additional riders or add-ons to your policy. The important thing is to make sure that you are adequately covered for any potential accidents that may occur.