3 Things to Remember When Buying Massachusetts Homeowners Insurance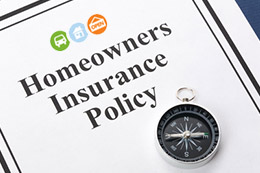 Most mortgage companies and lenders require homeowners to have insurance to protect their investment. So this isn't a "nice to have" service, it's a "must have" expense. Because of this some homeowners just go with the basic policy that is required by the mortgage company and don't do enough to protect themselves from risks associated with owning a home in Massachusetts. There are certain factors that will affect the premium rate of your homeowners insurance policy, things that must be considered, before buying insurance. Your New Bedford homeowners insurance agent can help you get the right coverage at a rate you can afford.
#1 – Location, Location, Location
Where you live makes a difference when it comes to getting homeowners coverage in Massachusetts. If you live next to an airport or in an area that is prone to flood, you will need to pay for additional insurance to cover those risks. If you live in an area where there is an added risk of hurricanes, wildfires or other location-associated natural disasters, more coverage will be required. These are things you need to know when buying homeowners insurance.
If you live in a neighborhood that is high-risk because of burglary, vandalism and other related damages, you will need to have an insurance policy that reflects those potential threats. In some cases a neighborhood becomes more of a risk over time and in other cases a neighborhood can be improved as crime recedes, making it important to check with your New Bedford insurance agent for any changes that might affect your homeowners insurance policy.
A recent homeowners insurance study that covered the years 2006-2011 revealed that jewelry losses were the most commonly filed claim in the United States in 2011, at approximately 17 percent of all claims. However, before that, between 2006-2010, the top claim was for damages due to fire or lightning damage, with losses of approximately $31,000 for each claim that was filed. For the entire period of 2006-2011 damage caused by wind and hail was the second most common claim and damage due to water and/or freeze damage came in third.
#2 – Know Your Potential Losses
How much is your home worth? How much would it cost to replace your entire home: the structure, the appliances, your possessions? These are things that need to be taken into consideration when buying homeowners insurance.
Don't think about how much your possessions or home is worth now, think about how much it will cost to re-build or buy everything brand new all over again. You won't be getting 1975 prices for the cost of re-building your home, and you won't get five or ten year old deals to replace your used appliances and clothing.
There is a thing called "reimbursement coverage," which is cheaper than coverage for replacement on your possessions, however it may end up costing you more in the long run if you suffer a major loss. Getting $300 for a dishwasher that will now cost upwards of $500 to replace will make it difficult for you to get your home back in order after a disaster.
#3 – Get the Best Policy for Your Unique Needs
Everyone is different. There isn't a one-size-fits-all policy that will protect anyone but your mortgage company. Speak with your New Bedford homeowners insurance agent to find out about all the available discounts, bundles and options that can help you save on your monthly premium rate, while beefing up your policy to ensure that you are properly protected.
One way to reduce your monthly premium is to raise your deductible. However, make sure you talk to your agent about potential issues with this tactic. Make sure you don't ever raise your deductible above what you would be able to pay out of pocket in the event of a disaster or other claim-worthy emergency.
Know the difference between the value for re-building or repairing your home versus the total value of your home and the property it is built upon. The land itself isn't typically affected by a natural disaster, so your focus should be on construction for the home. Homeowners coverage in Massachusetts should factor in the cost of re-building your home in today's market.
Protecting Your Investment
A 2010 homeowners insurance study revealed that, on average, as much as six percent of homes insured in the United States filed claims within a calendar year. A very high margin of those claims, as much as 95 percent or more, are typically for theft or property damage. Risks that are directly associated with the location of your home and the area that you live in can directly affect the price of your policy, as well as the required homeowners coverage in Massachusetts.
While some factors are simply out of your hands due to where the home is situated, you do have control over other factors that can help to reduce your monthly rate while getting you the coverage that you need. You can reduce some of your potential losses by making changes to your home to overcome certain risk factors. For example, installing sprinkler systems and fire alarms, storm shutters or burglar alarms can help you to lower your insurance rates by reducing your risk. Your New Bedford homeowners insurance agent can help you to identify specific issues that can impact your insurance premium and work with you to ensure that you are adequately covered.