Attention New Drivers: What You Need to Know About Auto Insurance in Massachusetts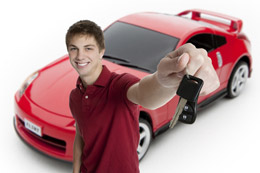 If you are a new driver or just purchased your first car, there are some basic things you need to know about auto insurance in Massachusetts. The first rule is that you must have some form of minimum coverage if you are going to drive or own a car in this state – it's just a fact of life.
Most car lenders will require proof of insurance before you drive off the lot, so if you are making payments on a new vehicle, chances are you are already aware of that requirement. What can be confusing is how much insurance you need and whether or not the minimum required insurance is enough to protect you and your vehicle.
Step One: Find an Insurance Agent
The first thing you will want to do is to get started by finding a local insurance agent. When you work with Borden Insurance Agency in New Bedford, you get the advantage of working with someone who knows where you live, the type of obstacles, challenges and weather concerns that you face. You also have the peace of mind in knowing that there's someone in your local area that is on your side.
Step Two: Compare Rates & Coverage
Your agent will give you information about the various rates and types of coverage available to you in your area. They will suggest specific companies based upon rates, applicable discounts and coverage options according to your needs. Meeting with a staff member at Borden Insurance in person is a great way to find out all of your options and ensure that you are getting the best possible rates and coverage.
Step Three: What Type of Coverage?
There are two primary coverage parts in a Massachusetts auto insurance policy.  The first is liability, which is the minimum coverage required by law that provides compensation to other drivers in the event of an accident.  The second is known simply as full coverage and as it implies it covers much more than basic liability. Full coverage auto insurance will cost more than liability-only, however if you are purchasing a new vehicle, the lender will demand that you have full coverage on the vehicle for the term of the loan.
Full coverage doesn't just pay for damages and injuries of the other driver, but it pays for damages to your vehicle as well -regardless who is at fault.  It can also cover damage due to extreme weather, falling objects, theft or vandalism. Speak with your New Bedford insurance agency for details on full coverage auto insurance options and for a comparison to the minimum requirements for auto insurance in Massachusetts.
Step Four: Ask About Discounts
Discounts are available for drivers based upon their driving history, membership to motor clubs, anti-theft systems and good student credits to name a few.  Have an open conversation with your agent and ask about available discounts. New drivers should ask about taking safe-driver courses in addition to their basic driving schools.
Step Five: Reduce Your Rate
There are things you can do to reduce your insurance premium that won't affect your coverage. One way is to select a higher deductible amount on your policy. Some car owners prefer the lowest deductible which is $300 in Massachusetts.  But with collision coverage, that low dedutible may cost more than is worth it. Review the matter with your New Bedford insurance agent.  A lower dedutible makes for a higher premium rate and a higher monthly payment.
If you want to save money each month on your policy, a deductible of $500 or $1000 might be in your best interest. While you will be responsible for paying the first $500 or $1000 worth of damage in the event of an accident, you will reduce your premium and monthly rate considerably. Speak with your New Bedford insurance agent about the risks and benefits of increasing your deductible. 
Getting Started
Obtaining auto insurance coverage for new drivers or new vehicle owners can seem a bit overwhelming, especially if you have never purchased insurance before. Your local New Bedford insurance agency can help make the job of choosing an insurance carrier and policy much easier by offering you options to choose from and discounts to make it more affordable. Call your agent today to get more information about new drivers and auto insurance in Massachusetts.