The Ins & Outs of Insuring Homes in Massachusetts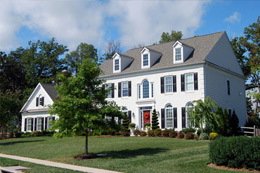 There are a lot of gorgeous old homes dotted all over the New England countryside and along the coast. Many people believe that insuring an older home should cost less than what it costs to insure a brand new home. However, even if the home doesn't hold additional value due to being an historically protected structure, older homes should still have all of the protections and coverage that a year-old home would be given.
Just because a house is older, doesn't mean that it isn't susceptible to the same types of damage as a brand new house. In fact, due to its age, chances are that more things will eventually go wrong with it than in a newer home, requiring extensive repair or rebuilding. This article will cover the reasons why it is important to properly insure your home – regardless of its age.
What Your Policy Covers
There are a lot of misunderstandings when it comes to home insurance policies. Many people believe that any "act of God" is covered regardless of the policy. While this is true in many cases, it is not true 100% of the time.
Flood damage is one of those cases where act of God or not, your home will very likely not be covered unless you purchased an additional flood insurance policy or a drain backup rider. Earthquake damage is another example where your home might not be covered unless you have purchased extra insurance.
Some of the things that are covered under a typical policy include:
damage caused by hail, wind or hurricane
damage caused by an explosion
damage from water due to plumbing breaks
damage due to collapse, such as a roof from weight of snow
damage caused by theft or burglary
damage caused by lightning, fire or smoke
It also is important to understand that the level of protection in each policy will vary depending upon the elements that caused the damage to your home. Before you purchase insurance for your New Bedford home, make sure to speak with your agent about any questions or concerns you might have about your policy. Advise your agent of any irregularities, extras or issues with your home as soon as you become aware of them.
Lowering Your Monthly Bill
There are three ways to decrease the cost of your home insurance policy. The first is to increase your loss deductible. The deductible is the amount that you would pay out of pocket for any repairs or damages before the insurance company starts paying. A deductible of $1,000 might not sound a lot when you are thinking about your $300,000 home, but if you sustain $1,200 of roof damage, you are out $1000 up front and the insurance company is only responsible for $200. If you can afford to pay $1000 out of pocket then this type of deductible is right for you. If the credit you receive with the higher deductible saves you enough over a few years to self-insure for that higher deductible, it is definitely worth it.
The second way to lower your monthly home insurance policy bill is to decrease your amount of coverage. This is not the best way to lower your bill and in most cases it is not advisable. Your lender may require a certain level of insurance to cover their investment in your home, but even for homes that are paid off, you will want to consider going above the most basic policy. You don't want to be caught saying, "I wish I would have" when your claim settlement does not fully restore your home or property after a covered loss.
The third way is to work with your agent to purchase insurance for your New Bedford home that is adequate and affordable. Your agent can tell you about all sorts of discounts for policy holders. One way is to have auto insurance within the same agency. Other discounts may apply due to added extras such as home security systems, dead bolts, smoke detectors, fire extinguishers and more. Make sure to ask your agent and be as forthcoming as possible to ensure that you get the best possible rate.
A Unique Policy for Your Unique Situation
When you own an older home, there are concerns, issues and planning for the future that need to be addressed. If you were to have a total loss to your house and had to rebuild, would you want exactly what you had? Or do you want just standard construction with the same amount of living space. This would make a very big difference on how much coverage limit to purchase on your house.  You need to make sure that you purchase enough home insurance to cover your home the best you can.  It is important to meet with your insurance agent and work together to create a unique policy that will cover all of the requirements of your unique situation.