Homeowners Insurance 101: What to Look for in a Policy for your New Bedford Home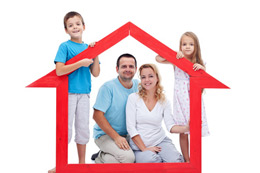 Your home will most likely be the largest financial investment that you ever make. Taking good care of your home by making repairs, upgrading your roof, furnace, electric and plumbing systems, plays a huge part in growing your home's value for the future. It pays to make sure that your home is properly insured so you can protect your initial and ongoing investments. Unfortunately, all that hard work and money can be damaged or destroyed in a moment's time due to floods, fires, storms and other disasters.  These are just some of the reasons why all home owners should purchase an insurance policy from Borden Insurance Agency (a New Bedford insurance agency) that will protect their investment no matter what happens.  Borden Insurance Agency is a local agency primarily serving the southcoast towns including New Bedford, Dartmouth, Westport, Freetown, Fairhaven and Lakeville.
Required Minimum Insurance
Most mortgage companies or lenders will require that a home owner get at least a minimum homeowners policy to protect the amount of the loan. But beyond the minimum policy that is purchased to satisfy your lenders, you should make sure to get a policy that will cover your whole investment. Your insurance agent should deliver the type of comprehensive policy that meets your needs. That way, you'll not only be covered, but you'll have peace of mind in knowing that your home will be protected under most circumstances.
What's Covered?
The most common homeowners policy form three, or HO-3,  does a pretty good job in addressing the needs of most homeowners by providing coverage for home, personal property and detached structures against many causes of loss. Personal liability is also included.  In addition to covering your home in the event of a natural disaster or fire, it is important to know that there are other causes of loss that could happen to your property that the basic home insurance does not provide.  For instance you may need to purchase flood insurance or want earthquake insurance.  Many homeowners have personal property such as jewelry, fine arts and hobby collections.  These are areas of concern that should be reviewed because the basic policy does not provide adequate limits or coverage for what you may own.  Be sure to keep in mind these areas of concern and ask your insurance representative to review them with you.
Types of Coverage
Homeowners insurance policies are for one to four family homes that are occupied by the owner. These policies provide a broad range of commonly needed coverage for the average homeowner. 
There is also Dwelling insurance for rental properties that have one to four units.
Tenant or "renters" insurance and Condo Unit-owners insurance provides similar coverage as Homeowners Insurance and provides for the renter's personal property and for personal liability.
Loss of Use coverage is usually included in homeowners, renters and condo-unitowners insurance.  It pays additional expenses when you are unable to use your home due to severe damage or destruction while repairs are being made or while the home is being rebuilt. Depending on the disaster that strikes your home, homeowners may also be eligible for government assistance for hotel or lodging expenses in addition to what their homeowners policy provides.
Renters or Tenants insurance are pretty straight-forward and cover the items that you own. It is usually world-wide coverage. You can choose to pay the lesser policy which provides coverage for your property based on present value (called Actual Cash Value) or buy the better, replacement cost policy which reimburses for cost new.   All renters should have a renters policy covering their personal property and providing personal liability.
Dwelling insurance policies are usually for rental properties and often covers just the building.  You should carry a high enough limit with Dwelling insurance, as with Homeowners Insurance,  to rebuild the structure using todays average cost of labor and materials.  Roofing, foundation, windows, siding and anything else having to do with the structure is covered. Personal property which is the contents of the house are not typically included in with Dwelling insurance, so it is important to make sure you include this type of coverage with your policy if the building has personal property that belongs to you, the landlord.  Again tenants should carry their own policies for their personal belongings and personal liability.
Cheap or Low-Cost Insurance Policies
It is important to note that insurance companies that promise you the "lowest guaranteed rates" will usually not provide you with the amount of coverage you need. Insurance is one of those monthly bills that people often begrudge having to pay, but when you think about it as an important way to protect your home, possessions and real estate investment, you realize the necessity of it.
When you speak to your local Borden Insurance Agency – a New Bedford insurance agent, you'll have the advantage of hiring professionals that live and know your area, not some customer service person across the country with no idea what the specific needs are for your region.
Ask about discounts for multiple coverage policies such as combining home, renters and auto insurance through Borden Insurance Agency, Inc  in New Bedford, MA. There are better ways to save money than to risk your biggest investment with a cheap policy.